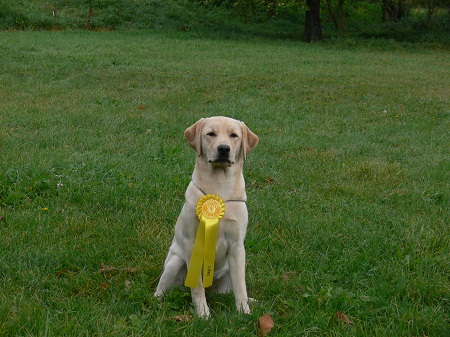 Bei durchwachsenem Wetter fand heute  in Klingenberg die LCD-Spezial-Rassehunde-Ausstellung statt.
Die Ausstellung war perfekt organisiert, sodass es an nichts gefehlt hat.
Richterin war an diesem Tag Frau Kirsi Luomanen (FIN).
Als erstes startete unser Present Of The Sky Anton *Anton* in einer gut besetzten Jüngstenklasse.
Anton hat seine Sache wieder sehr schön gemacht und hat einen tollen Richterbericht bekommen.
Present Of The Sky Amazing Donna *Donna* startete ebenfalls in der Jüngstenklasse.
Auch sie hat – wie ihr Bruder Anton – einen sehr schönen Bericht bekommen und wurde auf den 3. Platz gesetzt.
Donna hat sich wieder super präsentiert und ich bin wirklich stolz, mit welcher Gelassenheit unsere zwei Youngster das Ganze wegstecken.
Unterm Strich kann man sagen, dass wir einen sehr schönen Tag hatten, viele nette Unterhaltungen geführt haben und wieder einige neue Leute kennenlernen durften.
Vielen Dank an die Richterin & die Sonderleitung!