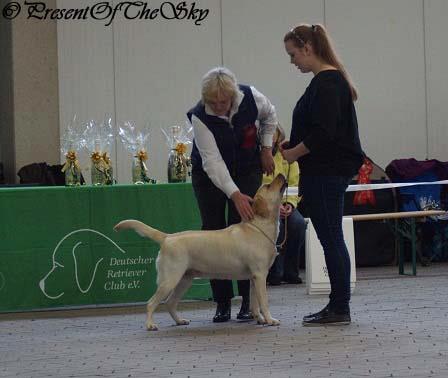 Heute stand die DRC Clubschau in Kassel auf dem Programm. Gerichtet wurde diese perfekt organisierte Show von Lynda Heron (GB).
Gemeldet hatten wir auch dieses Mal unsere Present Of The Sky Amazing Donna *Donna* und unseren Present Of The Sky Anton *Anton*.
Beide starteten in der Zwischenklasse.
Den Anfang machte wie immer *Anton*. Bestens gelaunt wurde er mit "Vorzüglich" und dem 4. Platz bewertet.
*Donna* machte es ihrem Bruder nach, präsentierte sich super und konnte ebenfalls den 4. Platz mit "Vorzüglich" belegen.
Wir sind super stolz auf unsere Youngster!
Vielen Dank an das Organisations-Team für diese tolle Show und an Mrs. Heron für das gute richten.
Nach der Show hatten wir noch die Möglichkeit mit Mrs. Heron bei leckerem Essen zu reden. Sie sagte, dass wir zwei tolle Hunde haben. Sowas von einer sehr erfahrenen Richterin und  Züchterin zu hören ist wirklich toll. Danke!
Für dieses Jahr war es die letzte Show.
Auszug aus dem Bericht von *Anton*:
kind head + expression, deep trough body, good length neck, well muscled hindquarters, excellent coat, tail well set on, moved and showed very well……
*Donna*:
attractive yellow with feminine head, good neck, generally well-made…..