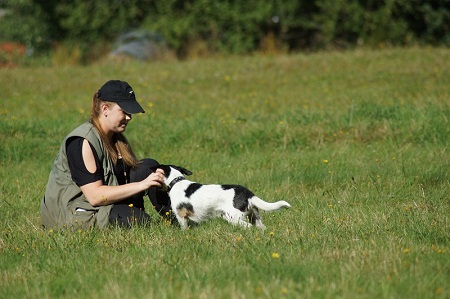 Heute bekam ich Besuch von zwei Hundetrainerinnen aus Hanau.
Lisa hatte angefragt, ob ich ihr und einer Kollegin mal einen Einblick in die Dummy-Arbeit gebe.
Gerne habe ich den Beiden die Dummy-Arbeit etwas näher gebracht. Es ging u. a. um den einfachen Apport, Voran, Voran mit Einweisen, die Suche, usw.
Ich habe mit Crazy Mabel Farmer´s Best Friend *Mabel* und Present Of The Sky Anton *Anton* gezeigt, wie man die Hunde so artgerecht beschäftigen kann.
Beide haben wieder einen hervorragenden Job gemacht.
Danach waren Lisa mit Emilio und Kerstin mit Bubbles an der Reihe.
Wir verbrachten einen sehr schönen Nachmittag und es hat mir sehr viel Spaß gemacht.